Mokhalad (Retired & Rehomed July 2022)
As part of the Galaxy horse racing project, we decided to acquire and syndicate a horse. The decision to get a horse was the brainchild of  Johnny Maher. The idea was a simple one find a horse offer shares to website members and like-minded people. Johnny had met Damian English at Naas races years earlier. Johnny was very impressed with Damian English. Johnny contacted Damian English to explain his concept. Damian English said he had just the horse! The horse was Mokhalad. Johnny Maher had his work cut out to convince myself (Derek McGeehan) that this was a good idea. Johnny Maher and indeed Derek McGeehan had both had disappointing experiences with syndicate horses. Johnny Maher was convinced Mokhalad and Damian English were the ideal pairing. Mokhalad prior to this was owned by Sheikh Hamdan Al Maktoum and was trained by Sir Michael Stoute. Mokhalad is exceptionally well-bred his sire is Dubawi, his dam is Model Queen (whose father is the brilliant Kingmambo)
Mokhalad as a yearling cost the below
£525,000 Yearling, Tattersalls, October Book 1 (2014)
£15,225 Horse-in-Training, Tattersalls, July (2017)
Mokhalad you are not reading incorrectly cost £525,000 sterling as a foal. After a long meeting in Beaverstown golf club Maher convinced McGeehan to go to meet Damian English and Mokhalad. All parties got on great from the start with the Galaxy boys gelling very well with Damian English from the outset. Once Johnny Maher and Derek McGeehan saw Mokhalad there was no going back we had to have Mokhalad. The start was like a whirlwind we started selling shares on a Sunday. Mokhalad ran the following Friday. We did not have colours for the first race so used the yards. The first race did not go well a last-place finish beaten by twenty lengths on 22-9-2017 at Dundalk. The colours were selected by Maher and McGeehan. They were black and green chevrons with a green cap with a black star.
The next run came at Leopardstown on 28-10-17 at Leopardstown. This was an incredible experience to have a runner at Leopardstown was brilliant. Mokhalad ran a blinder to finish sixth of seventeen finishing very strongly having been badly hampered. Mokhalad showed us he had it that day. Two visits to Dundalk followed a fourth and third-place finish on 3-11-17 and 10-11-17. They were two excellent runs earning prize money. Mokhalad then tried a step up in trip we ran into Clear Skies who is a serious horse. Mokhalad tried six furlongs on 6-12-17. Mokhalad was well beaten. It was clear that Mokhalad to go for a seven-furlong race . The key moment came at Dundalk on 15-12-17. Mokhalad worked exceptionally well before racing under Rory Cleary. We knew Mokhalad was very well all roads pointed to a seven furlongs race at Dundalk on 21-12-17. A 0-70 handicap. We were very hopeful going into the race. Mokhalad was very well backed from 25/1 to 10/1 winning by a head from Guanabara Bay. It was an incredible night. There were tears, cheers , hugs and delirium. We celebrated long into the night at the local pub of Damian English in Balscadden
The syndicate experience for Galaxy Horse Racing has been a really positive experience. There have been many friends made and much fun had already. The trainer Damian English is brilliant to deal with.The yard are open and accommodating. The policy of Grougha stables is Mokhalad is your horse please come and visit him. We visit Mokhalad a lot. The result is an incredible team spirit between the Galaxy Horse Racing Syndicate and all the staff at Grougha stables. We could not recommend Damian English highly enough if you are looking for a trainer. Damian English is your man. I have no doubts Galaxy Horse Racing will have another horse with Damian English in the near future. Our journey with Mokhalad is a bit of cinderella story, however with the organization and hard work syndicates can work. I am very grateful for Johnny Maher's persistence with the Mokhalad project. If you would like to be involved in the Galaxy Horse Racing syndicate drop us an email galaxyhorseracing@outlook.com
Derek McGeehan
Update: 10/06/2018
Our syndicate horse gave us one of the great nights at Navan Monday night 23-4-18. Mokhalad had been showing us a bit in the last few weeks since the weather has improved. We always felt Mokhalad would be a better horse on turf, it was wonderful to see that view vindicated.  Mokhalad also needs a strong pace to run at.It was a great training and placement performance from Damian English. Mokhalad showed a tremendous turn of foot. This result opens up many options for Mokhalad over 5 furlongs, 6 furlongs and 7 furlongs. I think for ourselves it was an incredible night to win at a track on the stature of Navan beating the class of horses we did, for us was fantastic. We only have Mokhalad since 22-9-17. Sean Davis gave Mokhalad a tremendous ride, however, the development of Mokhalad has seen Rory Cleary play a major role. We can't thank Rory enough who is a tremendous man and jockey.
The night was of course filled with laughter and fun as much of the syndicate retired to Mokhalad and Damian's local pub in Balscadden. We, of course, had some nice bets which were most welcome obviously. The road ahead is there for Mokhalad, we know we have to do as the handicapper gave Mokhalad a 9-pound hike now to a rating of 80. The ambition to go for premier handicaps is there for us and we have many options due to Mokhald's versatility.Mokhalad has come out of the race really well despite suffering a nosebleed. We are so proud of Mokhalad and look forward to seeing what he does next. As always I must thank Johnny Maher who is the prime mover and co-founder of the Galaxy horse racing syndicate. Johnny another great day thank you.
The Report from Irish Racing is below:
Mokhalad sprang a 20/1 surprise in the Slane Handicap, keeping on best inside the final furlong to score under Sean Davis for Damian English and the Galaxy Horse Racing Syndicate. Successful at Dundalk in December, the son of Dubawi failed to follow-up in five starts since and was well-beaten on his most recent outing on heavy ground earlier this month. Back in trip today he was settled in mid-division and was ridden to challenge in fourth over a furlong out. He really flew home inside the final furlong, getting to the front in the closing stages, going on to score by three parts of a length. Amanaat (25/1) ran well to finish second under Killian Leonard for James McAuley, while the 4/1favourite (from 11/2 on-course) G-Force was doing his best work toward the finish, eventually come home another length back in third under Shane Crosse for Adrian Keatly."He's a lovely horse, I really like him," said English."I started him off over a mile-and-a-half but he was a shell then and he's a tank of a horse now."He's just got quicker and quicker. I wasn't disappointed with his run last time as I put it down to him not staying."He has plenty of options now over five, six and seven. We'll see what the handicapper does now and we might target some of the premier handicaps at the back end."
Update: Mokhalad wins at Naas 13-4-19
Saturday, There is only one place to start Naas where Mokhalad was in action. It was a brilliant day for The Galaxy Horse Racing Syndicate. Mokhalad our captain, our leader and the horse we owe everything to delivered for us at Naas. Mokhalad went into the race on a high having run very well at Navan last time out finishing second. We were very hopeful he could win. Mokhalad produced a performance out of the top drawer. The ground had dried out quite a bit, it was probably as quick as Mokhalad would want it to be fair. Mokhalad we knew would be unable to dominate the early exchanges as he had at Navan.
Damian told Donagh O'Connor to ride Mokhalad with loads of confidence and wait until inside the last furlong using Mokhalad's turn of foot. It was great to give Donagh the winner he now loses his five-pound claim. Donagh was also Mokhalad's first-ever jockey. Damian English has been trainingMokhalad for speed since he came back into him in February. Stanhope has played his part in this process with Mokhalad enjoying taking Stanhope on at home. Mokhalad arrived on the scene at the furlong pole Donagh andMokhalad surged through the gap and the rest is history. Donagh O'Connor gave Mokhalad a peach. Mokhalad has now won three times for us taking us on a journey that has been remarkable. Mokhalad is very happy in himself, we could not be more proud of him. Mokhalad has secured his place at the top of the tree yet again. Our other three syndicate horses (Alfirak, Stanhope and Trading Point) have a lot to live up to over the next few weeks as the King (Mokhalad) is not ready to hand over his crown Galaxy crown to anybody just yet. Mokhalad as always got plenty of good wishes after the race he has built up a loyal following. We are grateful for all the good wishes before as well as after the race they mean a lot to us, thank you all.   Mokhalad will head for Naas next with the race he won at Navan having been switched to Naas this year. We would need a bit of rain. Damian, the team and the syndicate will wait for the right conditions ground wise with Galway still the main target forMokhalad. It is always hard not to get emotional about Mokhalad because of his status in the syndicate's eyes, this was a really great day. We have our horse well and truly back.
The below is Damian's quotes from Irish Racing
He ran a blinder in Navan the last day and we were thinking of going back to Navan but this race came up and it looked an ideal opportunity. Donagh gave him an absolute peach. He didn't travel as well as he did the last day, and the ground was probably a little bit livelier today. He was third in Galway last year and we are going to try and get back there this year.
Mokhalad Wins at Naas 29-4-19
Mokhalad at Naas. It was the night before Punchestown, however, our gaze was firmly fixed on Naas. As our pride and joy, Mokhalad went in the 550 at Naas. It was another night on the road for the Galaxy Horse Racing Syndicate. We were strongly in attendance to get behind our captain's banner at Naas. Mokhalad was bidding to continue his already remarkable season. We were looking forward to seeing Mokhalad in action at Naas, a very competitive race however despite 24 runners. Mokhalad was the favorite. As long as we get him home in one piece, everything else will be a bonus was the attitude beforehand. He has been electric so far this season 212 in 3 races. This is the major change in Mokhalad this season he is putting a sequence of runs together. Mokhalad's confidence is really up his coat has come on beautifully from Naas to Tipperary. A sign he is very healthy. We were delighted with how Mokhalad ran in Tipperary. The winner Hathiq was very good that night. Naas would suit Mokhalad far better in our view, the ground had come right. Mokhalad had a good draw. Although it was very competitive we thought Mokhalad deserved to be favorite, Shane Foley was keen to run provided Mokhalad was A1 after the race in Tipperary Shane kept the ride. Mokhalad had done well since Tipperary he was ready to roll, we were hopeful he could produce another bit of Mokhalad magic.
What happened next was a day we will never forget as Mokhalad pulverized the opposition with a destructive display of speed and class powering to a brilliant win. I could hardly believe my eyes through the binoculars as Mokhalad put his head down, bounding clear. The market saw Mokhalad backed from 13/2 to 10/3 early in the day. Mokhalad was then punted on track from 10/3 into 11/8 touching 5/4 at one point!! 
Sometimes there just are no words. Our captain, leader and icon Mokhalad delivered yet again. This golden run for Mokhalad continued with a blitz of a display at Naas last night. Mokhalad put his rivals to bed in tremendous fashion running out a very comfortable winner. Of course, we had the best of the draw but you have to make use of it. Credit has to go to Shane Foley who was very confident Damian and the team have got Mokhalad rolling it's been a great job, we will have a look at things now and plan from that point. Mokhalad is the horse of a lifetime we are so grateful to him. 
Damian's post-race quotes are below
"That was impressive. The run the last day was very good, considering it's a very quick five in Tipperary. He came out of it grand so we said we'd let him take his chance. Shane was saying that he appreciates that little give in the ground. We might just give him a little break now, a couple of weeks off, and have a look at what is coming up later in the summer. Six is his trip, he does get seven so we have options, but he just needs a little bit of give in the ground and good to yielding is ideal. We'll wait and see what the weathers does and pick something out again. We'd hope to get to a premier handicap at some stages along the line. If he could do that at the Curragh in one of the big handicaps we'd be laughing.
I have said it before numerous times about how important Mokhalad is to us. Mokhalad did not need to do anything else to elevate his status in our eyes. He came into the season with some questions to answer, however as a group we always felt with a break and the right conditions. The flame burned brightly still. Mokhalad had got his ground conditions twice last season at Navan (won) and Galway (placed) Mokhalad has had his conditions in his last four runs 2121. The handicapper has had his say rightly so, Mokhalad has been raised 17 pounds since the start of the season. Mokhalad has now won over €55,000 euros and the syndicate €103,00. There has been huge excitement about Alfirak, Stanhope and Trading Point at various stages. However, Mokhalad remains our flagship, our standard-bearer he is the benchmark for all our other horses to follow.  We know how lucky we are to have Mokhalad we treasure every day with him. The joy he has brought has been incredible. These truly are the days of our lives we intend to keep enjoying them for as long as we can.
Mokhalad Magic Lights Up Bellewstown 3-7-19
It was to prove to be an incredible night for The Galaxy Horse Racing Syndicate. Our leader, captain and banner carrier Mokhalad bounced into action at Bellewstown. We traveled in large numbers ourselves to get behind Mokhalad. He gets great support locally it was a chance for people who like him and back him to see him race in the flesh. It was a valuable race with 12 grand to the winner. We were delighted to support the four-day festival at Bellewstown. Mokhalad has already had a golden 2019 winning twice and finishing second twice. We stepped Mokhalad up in distance to just under a mile. Every jockey who has ever ridden him on the quicker ground has told us to try this trip on faster ground. We had the opportunity tonight so we went for it. Chris Hayes came in for the ride.
We knew our stablemate Geological would bowl along in front, with several front runners in the race we knew the pace would be fierce.The race went as we thought. Mokhalad was anchored at the back. Mokhalad looked detached at one point, to be honest, I was happy with the way he was going through the contest. Mokhalad latched onto the field at the two-furlong pole, he began to surge through. Mokhalad was in the fifth position just before one furlong out. Mokhalad hit top gear with his turn of foot powering clear for a two and a half-length win which in 50 yards more would have been five lengths. Mokhalad showed all his attributes as a racehorse in one perfect performance. The biggest asset Mokhalad has in my view is his mind he is a very determined horse who tries his heart out. The scenes in the parade ring were amazing Mokhalad was mobbed by his delighted connections. The crowd at Bellewstown gave Mokhalad a tremendous welcome into the parade ring.
From a personal point of view, it was a wonderful moment. My brother Dave and his family were seeing Mokhalad race for the first time in the flesh, they are on holiday here from South Africa. Dave has played his part in the syndicate from the start and is involved in our four horses. For Damian English, Craig English and the whole team. This was a plan brilliantly executed. The team had targeted this race several months ago as a race for Mokhalad. We have had a difficult few weeks with various setbacks for our horses and the yard. We always look long term as much as we can. The center of our philosophy is to let Damian work without interference while considering the horse's needs as our priority.  Chris Hayes gave Mokhalad a magnificent ride. For the lads involved with Mokhalad from the start all of whom were in attendance bar one, it was a truly special night. We were joined by our wives, children, and families. It was a perfect night at our local track. We think this is Mokhalad's greatest performance. The celebrations were epic we returned to Mokhalad's home village of Balscadden we celebrated long into the night. The heads the next day were very sore.
Mokhalad did not have to do anything else to secure his place in our hearts, he already means so much to the syndicate. Mokhalad has from day one led our team and this whole project magnificently. This win opens up lots of options for Mokhalad. We are dealing with a very good horse who is in a tremendous moment. Mokhalad will head to Galway now. We know what's in front of us we went with Mokhalad last year. Whatever happens for the rest of the season and indeed the future. This glorious July night on the hill at Bellewstown will always shine brightly. It was a night filled with emotion and Mokhalad magic.
Damian English Comments are below
Afterward English said "there is not too much between them at home. When they work on the beach the slower the sand they work on the further Mokhalad wins and on quicker sand Geo (Geological) would win.
"Chris Hayes gave him an absolute peach. I said Geo is going to make it and if they take him on you're going to come along and pick up the pieces. Talk about balls of steel, to drop him out that far and come with one rattle. It makes up for Twenty Minutes being beaten on the Curragh last weekend.
"He'll go straight to Galway now. We were going to go for one of the little seven-furlong handicaps but that might sneak him in now to the big race on the Sunday of the Galway Festival. "He's in the form of his life and it doesn't matter about ground or trip — once he's in good form he's going to run his heart out. He was third there last year so you never know."
Mokhalad Magic Strikes Again At Naas 20-6-20
On a day of high drama, Mokhalad weaved his magic at Naas again.  Mokhalad turned out for the second time in 24 hours. This time over six furlongs at his beloved Naas. We had hoped a return to Naas would see a better performance. Mokhalad had a brilliant record at Naas before Saturday. In four races at Naas Mokhalad has a record of 1143, three of those races over six furlongs. The size of the field wouldn't be a problem. Mokhalad's work from the stalls has become a little unpredictable following the incident at Naas in March. The hope was, he jumps out well and he could run a good race.  Damian English and Craig English believed the two runs in 24 hours would not be a problem. Mokhaladis as tough as nails, he loves to compete. Last season Mokhalad ran twice in four days finishing second and first. What followed was a day of high emotion for The Galaxy Horse Racing Syndicate. We took a view that we had nothing to lose and everything to gain.
On the second day, Mokhalad rose again. Well, what a day it turned out to be. Our hearts are once again bursting with pride thanks to our wonderful racehorse Mokhalad who produced a spine-tingling performance to win at Naas. Words can't do justice as to what Mokhalad means to us. Mokhalad had been showing us a bit at home as we have been saying. That said he has been having problems at the start ever since bumping his head in Naas during March. Mokhalad did not make a great start again. He looked to be in a very unpromising positionthree furlongs out. Mokhalad started to pass horses engaging overdrive up his favourite hill at Naas. One by one he saw them off into a really strong headwind.  Mokhalad powered home to win by a length going away at the line. Mokhalad was just sensational in the last two furlongs.Mokhalad takes a bit of knowledge, Gavin Ryan has been learning on the job. Gavin put everything he had learned about Mokhalad intopractice here. Damian English will always be the first trainer we ever hired. We have made so many memories together this was another fantastic day for us all. Damian has now trained ten winners for us. It was great for Damian and all the team at Grougha. It was a tremendous feat of dare and do to run Mokhalad twice in 24 hours. To the whole team our sincere thanks. Our Racing Manager Craig English, Peter Casey who has ridden Mokhalad a lot in his recent work. Of course not forgetting Jimmy Delaney and Daryl Clarke who both are a big part of Mokhalad's daily life.
The report from Irish Racing is below
Mokhalad is now a three-time winner over six furlongs at Naas, taking the Thank You To The HSE & Frontline Workers Handicap after finishing twelfth at Tipperary yesterday. In the Galaxy Horse Racing Syndicate silks, Gavin Ryan came from off the pace on the nicely supported 13/2 shot Mokhalad, to beat well-backed favourite Master Matt (6s into 4s) by a length.
"Five furlongs probably wasn't his ideal trip in Tipperary but he's a horse that needs to run regularly. He doesn't get a whole pile of work at home and needs to run regularly," said Ryan on the Damian English-trained Mokhalad. Ryan added: "He loves coming to Naas and his best form is probably here. The strong headwind today made it a real tough test and that's the way he relishes it."He's a horse that races behind the bridle a bit early on and does his best work at the finish."
Mokhalad wins at Galway 25-10-21
It had already been a Bank Holiday Weekend to remember. Two days spent at Cheltenham had taken its toll. The John McConnell team had five runners at the meeting. The highlight of which was the victory of Bardenstown Lad who was led up by our very own Johnny Maher. A very special moment, one which was celebrated long into the night as well as the next day. We got our act together eventually on Monday afternoon setting off for Galway. We have many happy memories of Galway, we love the racecourse and it holds a very warm place in our hearts. The away trips for a syndicate are always a mixed bag. If it's a festival the demands for tickets are huge, everyone loves the big show. It can be very stressful, however, they are days filled with anticipation.  A dodgy looking bank holiday Monday is usually a couple of people and keep us posted lads on how it's going. That is the game it's all part of syndicate life. We are always represented near or far. We pride ourselves on that. When Mokhalad races it matters every day, when owners are at the track or remote everyone is fully engaged.
We headed to Galway with Mokhalad.  Our flagship horse, the captain, the leader and of course the one known as "The King". The ground would be very soft, however, we were hoping a return to Ballybrit would spark a revival for Mokhalad. In three previous visits to Galway Mokhalad was 335. The two third places came at the famous Galway Races Festival.  Mokhalad had also posted his two best runs of this season at Galway. We had a very decent draw from stall 6. The hope was Siobhan Rutledge could get Mokhalad to bounce out and make all. The very testing ground would be a concern however, we thought it might be easier to front-run. We felt we would know our fate early if Mokhalad got into a good racing rhythm we could be in business. The bottom line is we know Mokhalad is capable of running a huge race on any given day. We know it, he is our iconic horse has done so much for us all. Galway is a horse for courses job so hopefully, Mokhalad could prove that rule. I and Johnny Maher met Siobhan Rutledge a half hour before the race. We went over the plan we were all agreed. Our trainer John McConnell was in Newmarket at the horses in training sales, he was in constant contact. Johnny Maher headed off to lead Mokhalad up  I went to find a strong coffee. The day's relaxed easy pace vibe was about to go through the gears rapidly. 
I don't even honestly know where to begin. It was vintage Mokhalad at Galway as he roared back to the winner's enclosure while smashing our 15-month without a winner hoodoo to bits. Mokhalad broke them one by one from the front. They lined up to challenge coming down the hill. Mokhalad kicked off the home turn surging three lengths clear. He powered up the famous hill. Mokhalad would have one last determined challenger in Plunkett however Mokhalad was in no mood to be passed he fought off Plunkett with his trademark will to win. Mokahlad was going away at the line again to win by three parts of a length with a further 3.25 lengths back to the third horse Clear Quartz. Siobhan Rutledge was absolutely brilliant here with a real dare and do ride. Siobhan carried out the plan to perfection. Siobhan is such a brilliant team player, she always has a kind polite word to all she encounters. Siobhan Rutledge is a young jockey and like all young people, they have to be given a chance to learn. The Galaxy Horse Racing Syndicate has always supported young people be they be Trainers, Jockeys and even young new owners. We were delighted to see Siobhan Rutledge become a black and green winning jockey.
This was an incredibly emotional win for us all. I have no shame in saying it against myself, it was almost too much for your correspondent. As we ran to greet Mokhalad and Siobhan, flashbacks to his previous great days come to you. However, on this day, Mokhalad was outstanding showing all his qualities as a racehorse, speed, desire and of course courage. There are so many people to thank for this cherished day. We have to pay special tribute to Mokhalad's faithful work rider Amy O'Hanlon who has done so much for Mokhalad. Amy's devotion to Mokhalad is wonderful to see, nobody could care for him more. This victory was as much Amy's as it was ours. Our trainer John McConnell has kept trying, kept tweaking things with Mokhalad who is now 8. John has kept Mokhalad in great shape mentally and physically. Siobhan Rutledge also partners Mokhalad in gallops playing a huge role. Brian Moloney transports Mokhalad to the races, a vital role that people on the outside do not fully understand. Mokhalad's owners are also a remarkable group of people patient, understanding with the horse being the number one priority at all times. We have done it all together since the start, a number of Mokhalad's owners are involved in every Galaxy horse. Mokhalad came into our lives in September 2017. Things have never been the same since Mokhalad is at the centre of everything. His hoofprints are forever imprinted on all our lives. Mokhalad has now won races in 2017, 2018, 2019, 2020 and 2021. Mokhalad has won seven races for seven different jockeys.
We know Mokhalad is near the end of his career. Decisions on his future can wait for a little while. It is not sadness we are near the end it is gratitude as well as respect for the most wonderful of racehorses, who we have the privilege to own. Mokhalad has given us everything throughout his career. A glorious retirement awaits at some point. As has often been the case for The Galaxy Horse Racing Syndicate since its foundation. The answer was Mokhalad it is he who gives us our first Galway winner. Mokhalad has been our leader, our captain, a warrior, a hero, an icon, A KING.  Mokhalad has allowed us to build the syndicate. Every other horse that has followed stands on the shoulders of Mokhalad. A seven-time winner who in the toughest of times over the last year continued to charge into battle carrying our flag. We thank everyone who got in touch with messages of congratulations it has been incredible the number of messages, as well as the clear admiration people, have for our horse. Mokhalad there will never be another you.
Alfirak (Retired January 2020)
Tamayuz(GB) - Bahja (USA)(Seeking The Gold (USA))
Alfirak is our second syndicate horse. Alfirak is like Mokhalad an ex Sheikh Maktoum horse. Alfirak started his life in France with J. E. Hammond finishing fifth in his only race. Damian English bought Alfirak at the sales in Newmarket. Alfirak came to Grougha stables in August 2017. It took Alfirak a while to settle into life in Ireland. Alfirak initially ran in the colors of Grougha Stables. Alfirak showed a fair deal of promise winning on his sixth start for the English family on 6-4-18. The Galaxy Horse Racing Syndicate stepped in and bought Alfirak in mid-April 2018. Alfirak is a very good-tempered horse who is still growing and maturing. A child could give Alfirak an apple. Alfirak made his debut for The Galaxy Horse Racing Syndicate at Bellewstown on 4-7-18. Alfirak ran a cracker finishing second beaten a length and a quarter to Stamp Of Authority(who has won again since). Alfirak conceded 20 pounds to Stamp Of Authority at Bellewstown. This was a tremendous effort from Alfirak having had 89 days off the track. We are looking forward to the future with Alfirak. We expect Alfirak to give us plenty of fun and we hope a few wins.
http://www.attheraces.com/atrplayer-replay-overlay/VOD/1048083
Update: 21-9-18 - Alfirak Wins At Dundalk
Friday, became a night the Galaxy Horse Racing Syndicate will never forget as Alfirak charged into Mokhald's hoof prints and won at Dundalk. Alfirak also gave Damian English his 50th career win. It is one year to the day that we had our first runner. Alfirak had run really well at Laytown and we were really pleased with him going into the race. Alfirak had done well since and we are very happy with him. On the figures, Alfirak had a really good chance here. Alfiralk wore cheekpieces tonight for the first time. He tends to be very relaxed in the stalls. The cheekpieces kept Alfirak alert and he got a good position early. Alfirak was a previous winner over course and distance. We would have been disappointed if Alfirak was not in the first three tonight. Alfirak despite having plenty going for him still had to go and do it, he was brilliant on the night and took the race apart.
Alfirak defied top-weight in the second division of the Christmas Party Nights At Dundalk Stadium Handicap. Successful over the course and distance in April, the Damian English trained gelding was last seen finishing third to Waqaas at Laytown. Fitted with cheekpieces for the first time this evening, the son of Tamayuz was sent off at 7/1 (from 5s on-course) in the colors of the Galaxy Horse Racing Syndicate. Soon in front under Rory Cleary, the chestnut victor was ridden from the two-furlong pole and kept on well from there, going on to score by three parts of a length. Path Of Silver (8/1) came out of the pack, but couldn't reel in the winner, and had to settle for second under Oisin Orr for Dick Brabazon. Bouquet Garni (10/1) was another length and a quarterback in third with Kevin Manning aboard this one for Edward O'Grady. Paved With Gold was sent off a well-backed 5/1 favorite (11s in early shows and from 7s on-course), and he finished sixth.
"I kind of expected that if I'm honest," said English."He ran a blinder on the beach over seven, which is just short of his best, and he just met the stream on the wrong stride when he was bang there."When he won here back in April I expected him to go on a do a lot more."He ran a blinder at Bellewstown when he got shuffled back and flew home to be second. Then it was soft ground in Galway, he was a little unlucky at Roscommon and we stepped him up to mile-and-two in Leopardstown."We haven't got everything right but we'll crack on now for a winter campaign and hopefully, he'll be able to progress up the ratings. He should be one we can have a bit of fun with up here."The loose horse was a blessing there as he does idle in front. We told Rory to sit second or third but he was clever, once he saw the loose horse he said 'this is going to take me a long way'."You could see him in the final stages that he was looking around a bit. He's still a big baby and hopefully, he can keep progressing."
The night itself was incredible the team celebrated long into the night at the Balscadden Inn which has become a special place for the Galaxy Horse Racing Syndicate. There are a few different people in Alfirak as opposed to Mokhalad. For many of these people, it was the first taste of success. We have had some difficulties with Alfirak, however, we never lost faith in him he has a lot of ability. Alfirak can go from strength the strength now. Damian and Craig English deserve massive credit for this. Alfirak had his regime changed after 16-8-18 at Leopardstown. The lads did brilliant and it was a tremendous piece of training and horse management. I would say this was my most emotional night in horse racing to date. This was a very special win and means the world to all involved in the Galaxy Horse Racing project. Alfirak became our third winner in 12 months dead.
Alfirak was officially retired from racing  13-2-20. Alfirak has been homed as a retired racehorse, he is carrying out an active retirement under the care of Jacqui Anne Avery. Alfirak's career for The Galaxy Horse Racing Syndicate in numbers. Alfirak purchased April 2018. Races 13, Wins 1, Places 7. Total Prizemoney won €16,388. Memories made priceless as well as countless.
      Stanhope
Stanhope (GB)
bg 2014 Equiano (FR)-Nicoise (IRE)(Lear Spear (USA))
Stanhope is the third syndicate horse for The Galaxy Horse Racing Syndicate. An out and out sprinter. We purchased Stanhope at the Autumn Horses in training sales at Newmarket in October 2018. Prior to us purchasing Stanhope, he had run 17 times won once and placed ten times. We think Stanhope has a lot of potential
Update: 7-12-18 - Stanhope Wins At Dundalk
17:30 at Dundalk 7/12/18
1. Stanhope 10/1
2. Dance Alone 12/1
3. Amanaat 7/1 f
7-12-18
At Dundalk in what turned out to be another incredible night for The Galaxy Horse Racing Syndicate. Our third syndicate horse Stanhope (530 Dundalk) hit the track for the first time in our silks. Stanhope is a sprinter who has settled in well to life in Balscadden. We were very happy with Stanhope going into the race and could see potential in him, this was supposed to be very much a fact-finding mission. Stanhope had been brought along gradually we had thought whatever he did today he would improve. Stanhope pleased us on Wednesday morning myself and John Maher (syndicate co-founder) saw his work. The priority was a positive experience as well as to learn about our new horse Stanhope.
The race turned out to be one of the most pleasant surprises we will ever get. Stanhope made all the running under Stephen Mooney to win holding off his stablemate Dance Alone in a first 1-2 for Damian. Stephen loses his ten-pound claim for winning on Stanhope and gained an agent. We were delighted for Stephen who is a massive part of our team and racing story. Stephen rides a lot of the work on our horses and has a sharp sense of where our horses are health and fitness-wise.  The team at Grougha have again done a remarkable job. Damian and Craig identified as we expanded we needed a sprinter, the lads then bought Stanhope. It was a first career 1-2 for Damian.  Myself and John Maher were interviewed on At The Races live another surreal experience. The celebrations were as you would expect back to the Balscadden Inn for a long night. This was our fourth winner in under 12 months and we now have a 30% strike rate at Dundalk as a syndicate. It is remarkable by any standard. Our first three horses have now all won.
The road ahead is there for Stanhope we find ourselves way ahead of schedule. The race report is from Irish Racing.com
Stanhope made a winning debut for Damian English at Dundalk today when leading home a 1-2 for the trainer in the opening Crowne Plaza Race & Stay Handicap. Ridden by 10lbs claiming jockey Stephen Mooney, the son of Equiano made much of the running and in the end beat stablemate Dance Alone by half a length. Stanhope won once from 17 starts for trainer Simon Crisford in Britain and following today's debut win for the Galaxy Horse Racing Syndicate, English stated "we thought he'd need the run, to be honest, and we fancied Dance Alone big time. I told Stephen going out 'try for your life but he might just come up short fitness-wise'."Credit to the horse he's dug deep and he could be a right little sprinter for the winter."The trainer added, "We bought this lad at the Autumn sales and thought he'd be a nice sprinter for up here."We threw him down to Francis Casey when we got him; he's had him for a long time and we've only had him for a few weeks."There is a race here next week over six, worth €15,000 to the winner, and if he comes out of this well we might let him tip on into that."I have to credit my brother Craig as well as Stephen (Mooney) because I've just had a cruciate injury and the lads are keeping the show running in the yard. They're doing a great job so fair play to them."That's Stephen's third winner so he loses the 10lb now. I'm delighted as that's my first one-two as well."
Stanhope finished second on his second start on the 14-12-18.  We have a lot to look forward to with Stanhope in 2019.
Stanhope Wins At Bellewstown in Dead Heat Thriller 4/7/19
We headed back to Bellewstown bleary-eyed and in buoyant mood following Mokhalad's victory the previous night.  It was the turn of Stanhope to show his stuff. Stanhope had been pleasing us the last few weeks, he ran a very good race at Down Royal two Saturdays ago. The form has been franked since by our stablemate Twenty Minutes last Saturday at The Curragh. Going into the week we would have thought Stanhope was our best chance of a winner. Damian ran three horses last night they finished 123. Stanhope had an excellent draw. We all know what Stanhope can do he has shown us already. We had booked Colin Keane who gave Stanhope a very good ride at Naas earlier in the season. Stanhope takes a bit of knowledge so it was great to have Colin who is a former champion jockey and riding brilliantly just now. Stanhope had a very good chance and we were very hopeful he might give the Bellewstown crowd something to cheer about.
The race itself panned out the exact opposite producing a thrilling finale. Stanhopes evening started in the worst possible fashion as he pitched forward leaving the stalls. Colin Keane was shot forward in the saddle, however, he kept the partnership intact somehow. They went an incredible pace early on with Stanhope detached from the main group. Colin had to sit, suffer and nurse Stanhope back into the race. Stanhope on meeting the rising ground really started to motor. Colin Keane was inspired, galvanizing Stanhope forward. True Blue Moon to his credit for Joseph O'Brien rattled home as well. They hit the line together. The photo finish took a while to sort out, it was a dead heat. Stanhope showed incredible courage as well as lots of talent. It was a remarkable effort from Stanhope and Colin Keane.
Colin Keane got mobbed as the Galaxy Horse Racing Syndicate piled on top of the former champion jockey. To be fair Colin got into the spirit of it, he got a great kick out of it. It capped a remarkable 48 hours for ourselves. We have had a difficult time since the start of May with various setbacks. We kept our nerve and our faith in Damian, Craig and the wonderful team. We were rewarded in spades. We are unlikely to ever experience anything like the emotions of the last 48 hours again, it has been incredible. We have now run three horses at Bellewstown our local festival. Alfirak finished second in 2018, Mokhalad and Stanhope won in 2019. We do not take any of this for granted, it truly is the days of our racing lives.
Stanhope Wins At Navan 3-7-20
The report on Stanhope's win from Irish Racing is below
Topweight Stanhope (7/1) kept on well under a strong drive by Rory Cleary to take the Beauparc Handicap by half a length from Miacomet. Quickly into stride, the winner was always close to the pace and led over a furlong out before finding plenty for pressure.11/4 favourite Face Off didn't fire on this occasion and finished with only one behind. It was a fourth career success for the Equiano six-year-old who had won twice for previous handler Damian English. He had run well just last Sunday when not beaten that far, having been hampered, in the Rockingham Handicap at the Curragh and availed of a drop-in class here.
Winning trainer John McConnell said: "It's great to win for the guys involved in him (Galaxy Horse Racing Syndicate)."They backed me by giving me a horse and they are a good bunch to train for, they just let you at it, and they are very professionally run."The horse has had his issues in the past but in fairness when I got him he was in good nick and he's been very straight-forward."He had a very good run in the Rockingham, and he was possibly unlucky in it. We thought coming here he'd have a good chance but 10st 2lb was a big weight to carry."He's in here next week but we'll enjoy this and then we'll see whether he runs next week. He'll have to run in something half decent again."
Stanhope Wins At Navan 23-4-22
Stanhope came into this having been deliberately put away for the winter he no longer enjoys Dundalk.  There was a lot of back and forward on leaving the horse off for the winter. In the end, we're all comfortable trying this route. John McConnell felt we would get the benefits of it. So Stanhope headed away to Delanys for the winter, he was completely switched off. Stanhope had a good winter he looked well and has been moving well. Since he came back in we were positive about it. Obviously, he was coming off a 173 day lay off however he has run plenty of good races fresh. Stanhope was in an apprentice race here we had Siobhan Rutledge who knows our horse well. Stanhope ran two belters at Navan and The Curragh last season if he could reproduce those runs he would be a player here. The bookies were taking no chances at 12/1. Stanhope means a lot to everyone involved with no Mokhalad anymore. Stanhope took the captain's armband for the first time hopefully he could give us all a lift after a difficult winter.
Stanhope under Siobhan Rutledge stormed forward at Navan to sweep away our winter blues to win. Stanhope was securing his fourth victory for us. He is already an icon for our Syndicate, he has done so much already. Stanhope delivered for us lifting the gloom for ourselves and our talented young jockey. As Siobhan correctly said in her post-race interview. It has been a difficult time for her and us. This is the way of it for young people making their way in all walks of life. I always say " They are never doing as well as they think but most importantly they are never doing as badly as they think". It is important to try to stay level. We have stuck together as a team the owners, the trainer, and the jockeys.
Stanhope was very good on the day. There was much joy and some relief afterwards. We got a great kick out of it. Three of our recent wins came during a time of no owners. Our last victory as a syndicate was ruined by Mokhalad sustaining a serious injury. It has been tough but plenty of folks have suffered far worse over the last two years.  That said we have had at least one winner every year since 2017.  It was our 14th win as a syndicate. I felt it was the closest feeling I have had since our first win on 21-12-2017. We as I said earlier have to stay level.  Stanhope won with a little in hand he enjoys this kind of task. We believe it or not have learned a lot about Stanhope in the last twelve months.
John McConnell changed his training regime last season in the middle of the season. John McConnell deserves great credit for this win he peaked the horse very well for this target. After a winter off and at Stanhopes age he would have been entitled to come forward for his first run of the season. We gave John a list of races for Stanhope for the early season on turf. John worked towards them very well. We will enjoy this win and have a chat with John McConnell when the dust settles. The list of races that John is working off is still relevant even after this win. We will work through them. Stanhope will attempt to eat his own body weight in Polo mints and carrots while we come up with a plan. We will happily feed them to him for as long as John McConnell permits us.
Trading Point (Retired June 2022)
Pedigree: Sire: Siyouni (Fr), Dam: Zita Blues (Ire), Dam's Sire: Zieten (Usa)
Trading Point arrived at Grougha stables in October 2018.  Damian and Craig English selected Trading Point. We purchased Trading Point at the same sale as Stanhope, the Tattersalls Horses in training sale from Sheikh Abdullah Almalek Alsabah. Trading Point was given plenty of time to settle into life in Ireland having been gelded. Trading Point was a three-time winner in the UK who had a rating of 90.  Trading Point has established himself as a favorite of the syndicate before he even ran. Trading Point is a handsome horse who is very easy to deal with. Since Trading Point went into serious work he had pleased the whole team showing us a lot of promise.  Damian English decided to forego a prep run, pitching  Trading Point into the Irish Lincoln. Damian's faith in Trading Point was fully justified. Trading Point had his first run for us in the Irish Lincoln at Naas on 24-3-19 where he finished second. Below is a synopsis of the day.
Everyone needs some stardust in their lives we appear to have it in Trading Point who produced a breathtaking performance to finish second in the Irish Lincoln. Trading Point showed us everything he had been showing us at home and more. This is a very talented horse. Trading Point loomed up at the two-furlong pole having moved through the race brilliantly. Karawaan who looks very talented had too many guns on the day, Trading Point ran a blinder to land our biggest single payday to date as a syndicate €20,000. The scenes in the parade ring were epic, Trading Point got a reception like a winner he deserved it all. Trading Point looks to have a very bright future with average luck. We look forward to seeing what Trading Point can do from here.
Trading Point wins at Dundalk 11-10-19
It was to prove another brilliant night for the Galaxy Horse Racing syndicate as Trading Point got off the mark for us with a thrilling win at Dundalk. Trading Point had produced 3 excellent performances in seven runs for us winning 23,400 euros in the process. Those runs came with a brilliant second in the Irish Lincoln, a massive run at Galway in the Colm Quinn mile. Trading Point was then nutted on the line at the Curragh. Trading Point is held in massive regard by Damian English, his team and ourselves.  Trading Point had a tough week in September at Listowel and Leopardstown in September. Trading Point has been a work in progress we are learning about him all the time. We have been very patient with Trading Point this was only his eight-race in Twelve months. Trading Point had never raced on the all-weather in his life, so we went into the contest with a few unknowns. 
Trading Point blew all the way with a superb performance. Trading Point delivered on his early-season promise by winning the one-mile handicap.Trading Point who was giving plenty of weight to his rivals showed all his class traveling strongly through the contest. Ronan Whelan delivered Trading Point as late as he could as Trading Point was giving 18 pounds to the second horse.  Trading Point got the better of Mutadaawel by a head having given that horse 18 pounds. We had been thinking of putting Trading Point away after this race for the winter, however, we will review it after this result. Delighted for Trading Point, the whole syndicate and the team who care for him a brilliant result. It has not been easy for Trading Point all season, Damian English, his team and the syndicate stayed patient. We have now run all of our four horses at Dundalk. They have all won Mokhalad, Alfirak, Stanhope and Trading Point.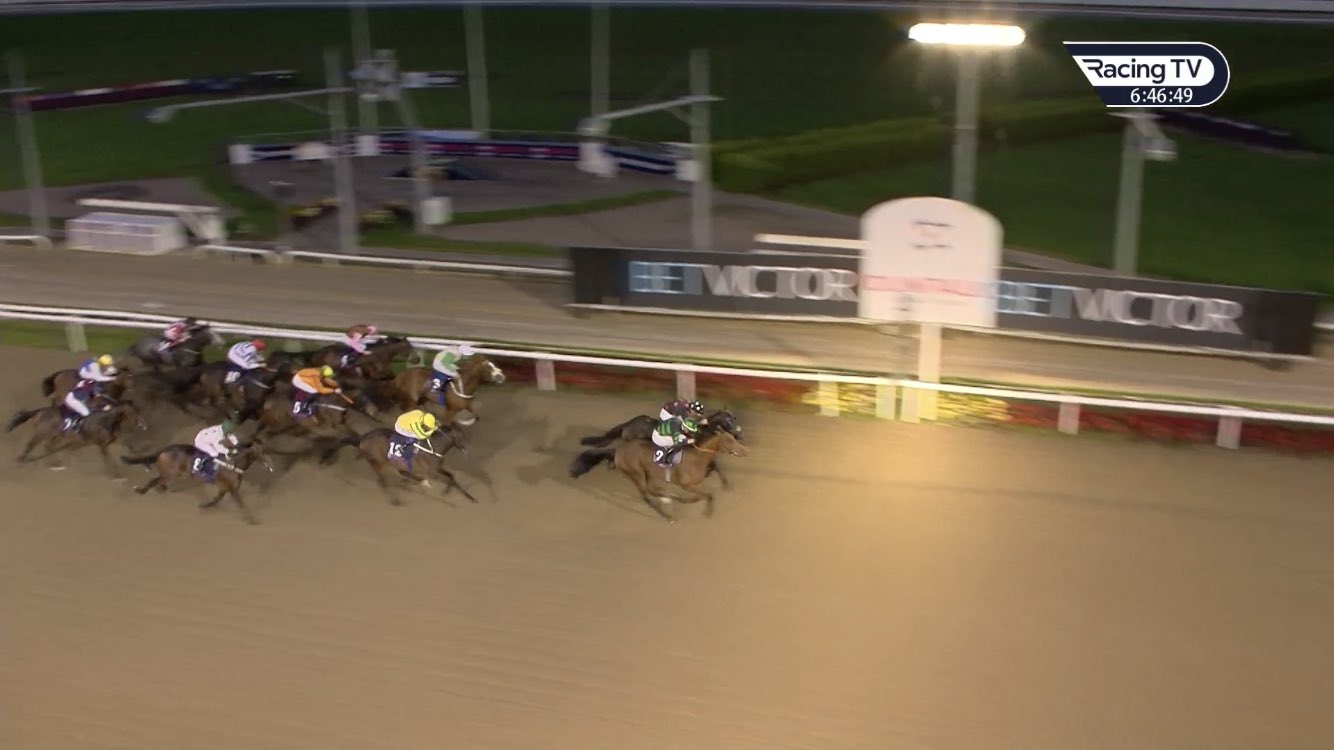 Trading Point puts his head down at the right time to win at Dundalk 11-10-19
The report from Irish Racing is below
Trading Point confirmed the high opinion in which he's held by trainer Damian English when just coming out on top after an exciting finish to the Crowne Plaza Race & Stay Package Handicap at Dundalk. The five-year-old hasn't enjoyed the best of luck since joining English this season but he put that right in this mile event. The 12/1 chance was produced to challenge over a furlong out by Ronan Whelan, and just got the better of a tremendous battle with the rallying Mutadaawel by a- head. Excelcius was a further length and three quarters away in third.
English said, "That was badly needed. I've been having a frustrating season with 13 seconds and haven't had a winner since Bellewstown."This lad has been a bit unlucky. He was second in the Lincoln on his first run for us and coming up to Guineas weekend we had a bit of a virus in the yard which set him back."Coming up to the Cambridgeshire he stood on the clip of his shoe which put him out. There have been loads of little problems but it's finally come together.
"We've never actually had him up here so it was a bit of fact-finding to see if he'd handle the place but he handles it well and we'll keep him in for the winter now and maybe go for the Fast Track Qualifier and get him to Lingfield."He has that ability and I think there is a Premier Handicap in him."He traveled like a dream and he's not a horse you want to be bullying. He just does enough when he gets there and he made us sweat."
Lottieloveheart (IRE) (Sold October 2020)
Sire: Es Que Love (IRE)
Dam: Dirtybirdie (UK)
It is with great pleasure that we announce the purchase of Lottieloveheart who will become our fifth syndicate horse. Lottieloveheart was claimed by Leanne Breen at Dundalk 4-10-19. The Galaxy Horse Racing Syndicate has purchased Lottieloveheart outright, with Leanne Breen training the horse. We are delighted to add Leanne Breen to our team. We are excited to get started with Lottieloveheart. We would like to welcome our new members who have come on board for Lottieloveheart as well as our core of stalwarts. We have made huge strides as a syndicate since our foundation in September 2017. This project is part of our continued evolution as a syndicate.
Leanne Breen impressed us in our meetings with her hunger and ambition. It matches our own. The training facilities that Leanne has at her disposal are top class. Leanne Breen has worked alongside high-profile trainers including; David O'Meara, Willie McCreery, James Cummings in Sydney, and Mark Johnston; she had a diversity of roles within them respected yards; from being a rider, traveling assistant and yard manager.
Leanne Breen commented
"I am delighted to welcome the Galaxy Horse Racing Syndicate to the yard. I hope that we have many successes in the future and many great days out. As one of the newest trainers to enter the training ranks I am determined to give the Galaxy Horse Racing team the winners they deserve. Lottieloveheart is a lovely filly who has shown plenty of ability on the track to date with nearly always being amongst the prize money. Going forward she will campaign at Dundalk over the winter before then returning to the turf. She is an exciting filly to go forward with. "
From The Galaxy Horse Racing Syndicate, we wish Leanne Breen the best of luck in her new role as one of our trainers.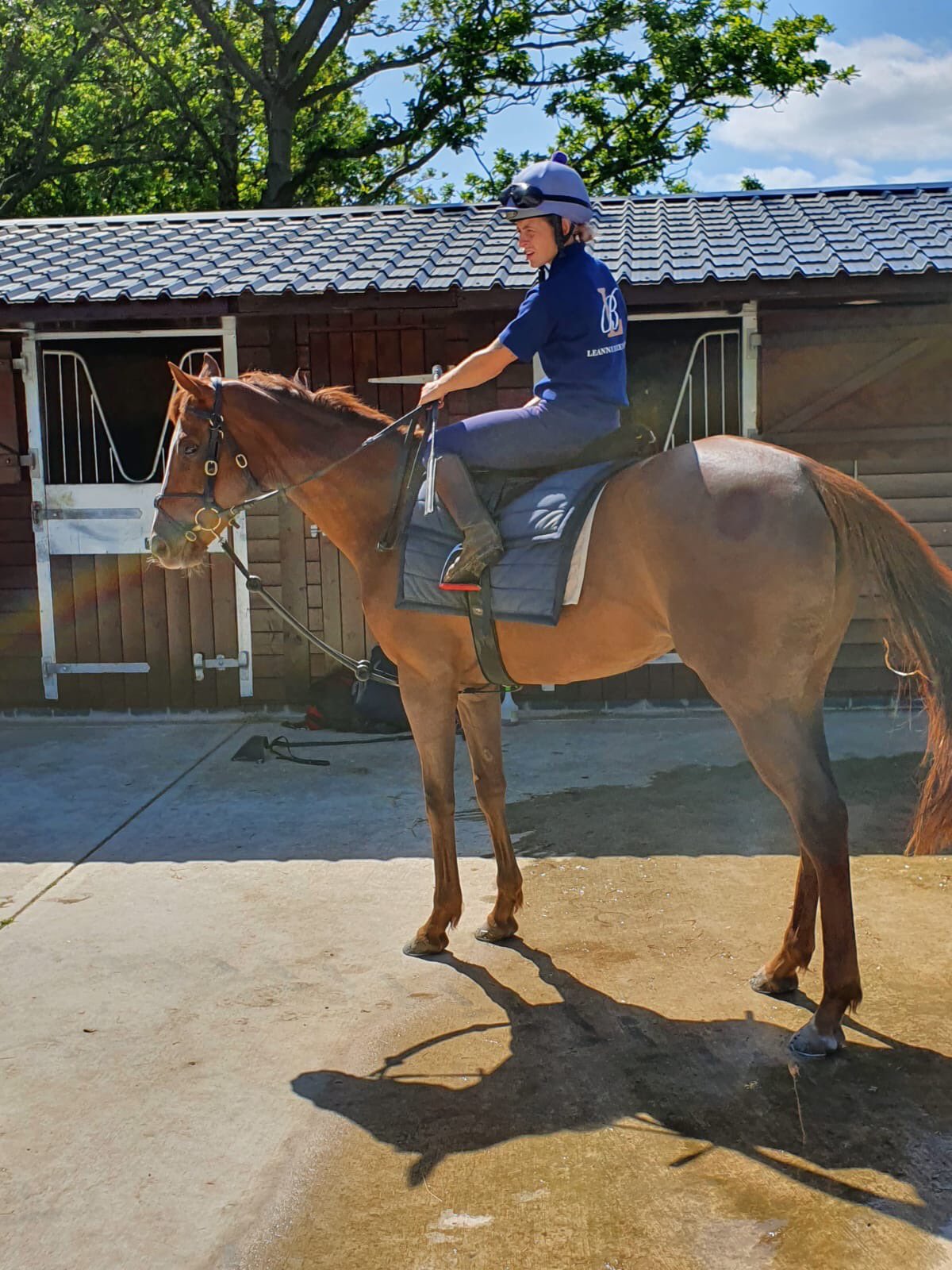 Lottieloveheart
Parkers Hill (Retired and Rehomed June 2022)
            Dam's Sire
            Fantastic Light (USA)
It is with great pleasure that we announce the purchase of Parkers Hill who will become our sixth syndicate horse. Parkers Hill was claimed by Leanne Breen at Dundalk 7-2-20. The Galaxy Horse Racing Syndicate has purchased Parkers Hill outright, with Leanne Breen training the horse. We would like to welcome new members on board for Parkers Hill as well as our core of stalwart members. Parkers Hill is a son of the very talented No Nay Never. Parkers Hill is already a winner at Leopardstown and Dundalk. Parkers Hill is rated 75, We feel Parkers Hill is a Leopardstown Thursday night horse/ weekend horse. We have made huge strides as a syndicate since our foundation in September 2017. We believe Parkers Hill is a quality horse who will improve what is already a good team of horses for our syndicate.
Leanne Breen commented "I am delighted to have another horse sent to me by The Galaxy Horse Racing Syndicate. Since joining forces in October 2019 we have formed a brilliant owner-trainer relationship which, I am sure many winners will result from. Parkers Hill is a very exciting horse to be joining the team. Rated 75 he is already shown his ability by winning at Dundalk and Leopardstown. I believe this horse has the ability to improve by a change of scenery and a gelding. The aim for him this year is to win at tracks such as Leopardstown and the Curragh in the summer months on the true good to firm ground which he has shown a liking too. Parkers Hill is a fantastic model of a horse, great temperament and has settled in brilliantly to his new surroundings."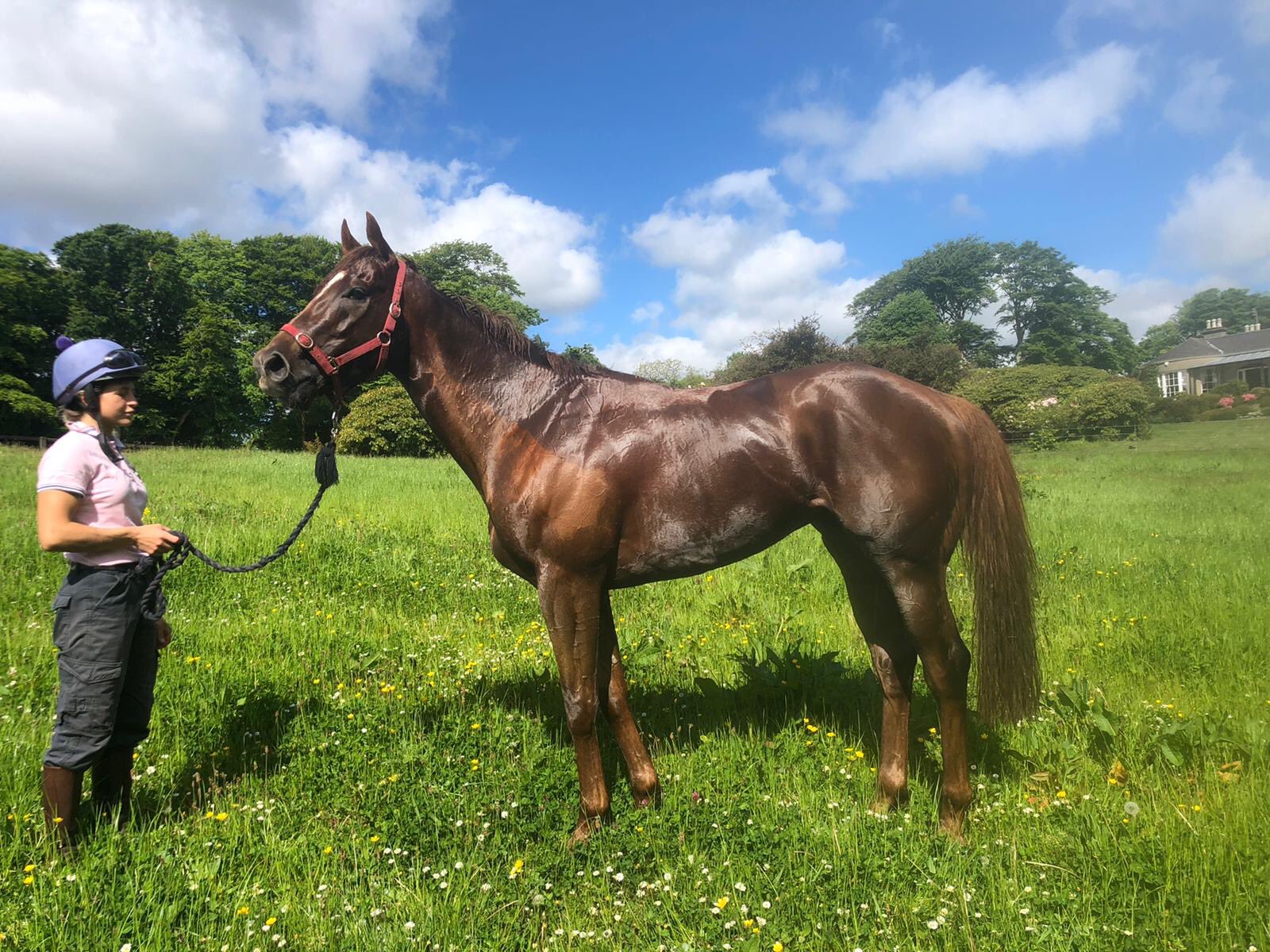 Parkers Hill Wins At Naas 8-6-20
The report from Irish Racing is below
On his second start for the Galaxy Horse Racing Syndicate and trainer Leanne Breen, Parkers Hill gave jockey Shane Foley a Naas double when successful in division two of the Clinton Higgins Chartered Accountants Handicap.
Earlier successful for his boss, Jessica Harrington, on Lucky Vega in the colts and geldings juvenile maiden, here Foley was aboard 18/1 chance Parkers Hill for the third time.
He'd finished fourth and second on the No Nay Never gelding when he raced in Paul Smith's colours under Johnny Murtagh's tutelage.
After being settled behind the leaders towards the outer this afternoon, Parkers Hill made his ground under two furlongs out.
He eventually led in the final hundred yards for a two and three quarter length win over Fit For Function.
"He's a nice horse. He's been gelded since his last run and he put on 20kg straight away. He's been working really well and we were expecting a big run," said the County Down-based winning trainer.
"He could be anything and it's great for the lads (Galaxy Horse Racing Syndicate). They backed me before I even had a winner. I value them as owners and I'm delighted he's done that today for them. He likes rattling ground.
"I have eight in training for the Flat at the moment. I'm very happy with them and I think they could all pick up a race.
"I have the licence less than a year and Latchet gave me my first winner at Dundalk last October."
A delighted Leanne Breen gives the Syndicate her verdict after Parkers Hill wins 8-6-20
Double Kodiac (IRE) (Sold October 2021)
It is with great pleasure that we announce the purchase of Double Kodiac who will become our seventh syndicate horse. Double Kodiac was purchased by Leanne Breen in July. The Galaxy Horse Racing Syndicate has purchased Double Kodiac outright, with Leanne Breen training the horse. We would like to welcome new members on board for Double Kodiac as well as our core of stalwart members. Double Kodiac is a son of the very talented Kodiac. Double Kodiac is already a winner in France. Double Kodiac is rated 83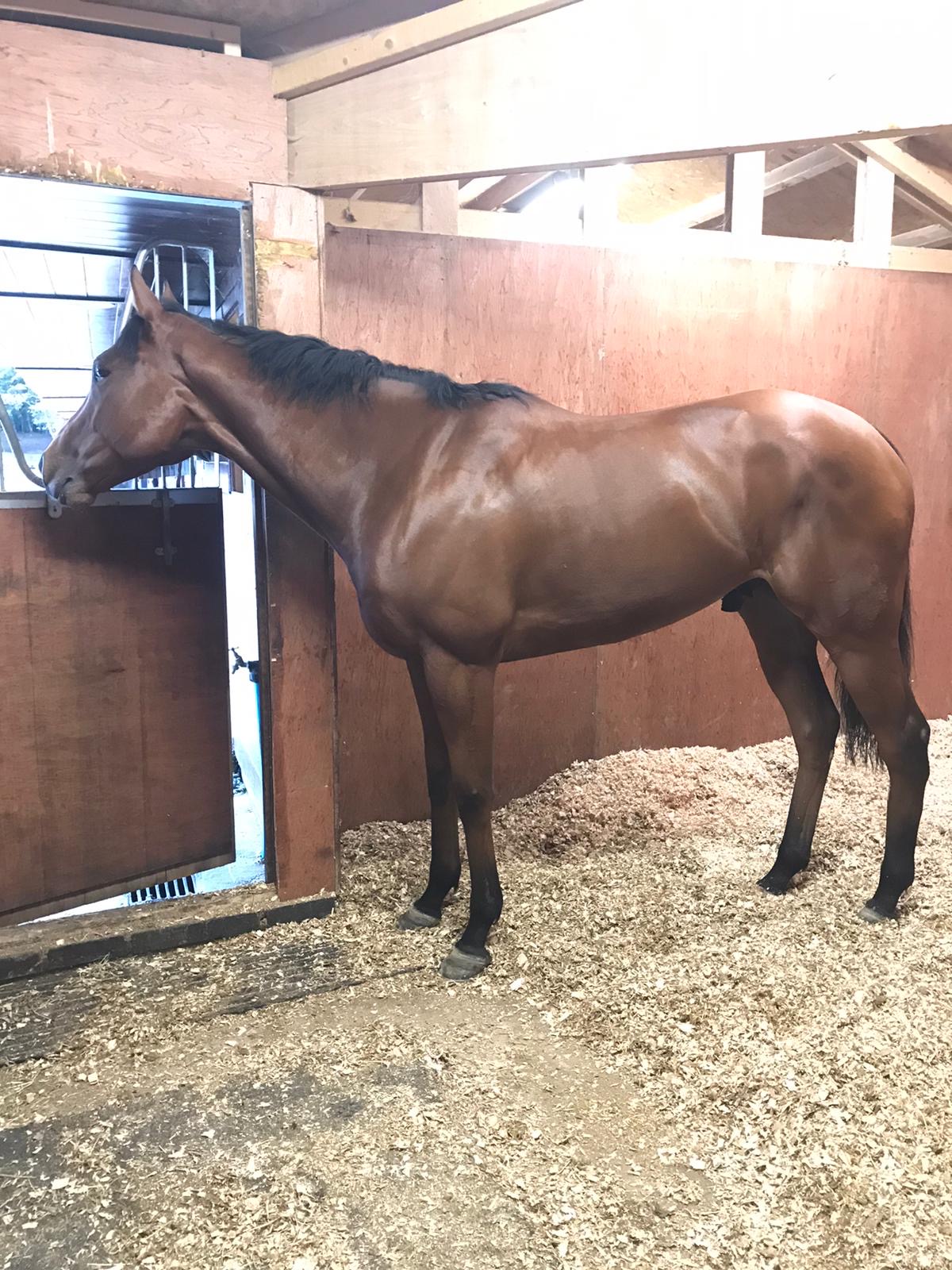 Casa Comigo (retired and Rehomed September 2021)
                         Dam's Sire
                        Motivator (GB)
It is with great pleasure that we announce the purchase of Casa Comigo who will become our eight syndicate horse. Casa Comigo was purchased by Leanne Breen in October. The Galaxy Horse Racing Syndicate has purchased Casa Comigo outright, with Leanne Breen training the horse. We would like to welcome all members. Casa Comigo is a son of the very talented Cape Cross. Casa Comigo is already a five-time winner in the UK. Casa Comigo is rated 73. The purchase of Casa Comigo represents a move into the staying division for the first time.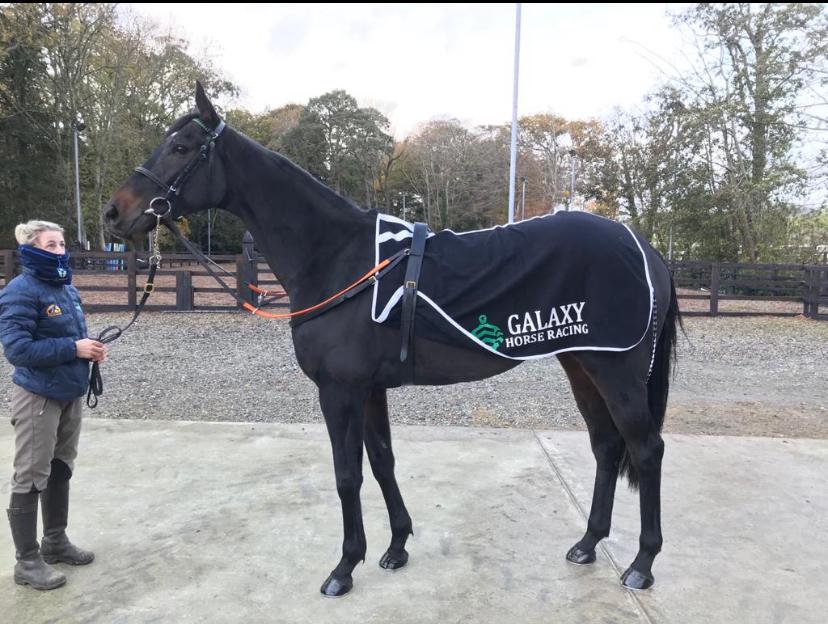 Fastman
                Fastman (IRE)
Sire
              Elzaam (AUS)
Dam
             Manalisa (IRE)
Dam's Sire
          Manduro (GER)
Fastman joined the team in November 2020 to become our ninth syndicate horse. There was no need to say too much for the last few months as we have been leaving John McConnell work. Fastman had excellent form in the UK in 12 runs he won twice and placed four times, he has also actually finished fourth four times. There is one piece of form that stands out for Fastman in the UK. The third place at York of 19 to Space Blues (who went on to be rated 114) beaten 2 lengths is very strong form. Fastman has been a model pupil for John McConnell so far doing everything right at home. We are looking forward to seeing what Fastman can bring to the team.
Fastman wins at Bellewstown 28-9-22
A day to remember at Belleswtown. Fastman gave us a great thrill yesterday by winning at Bellewstown. We would like to thank all the team at Rockview stables, especially all those who care for Fastman every single day of his life. We never take it for granted. Our trainer John McConnell deserves great credit for the job he has done. John and his team were on the back foot after Roscommon and Cork earlier in the season. The race itself was Fastmans from a long way out. We were always in a good position. Fastman travelled like the winner all the way, he picked them up when he liked powering away to a decisive victory. It was as easy as a watch as I have had as an owner winning a race. We had to contend with a very strange stewards' inquiry which took an age. Because we were involved with team Ireland Willie Mullins our captain stayed with us for the Stewards inquiry. We had a great chat, especially in relation to Florida Pearl. 
Fastman is in a great moment he has added a determined toughness to his racing. He is a very brave horse and is really enjoying his racing. We could not be prouder of Fastman. Racing can be a really tough sport, over the last year we've had our share of setbacks. Yesterday is a credit to the whole team who work with our horses as well as the owners who back up that team. Fastman is a lovely horse to be associated with. If ever a horse deserved a day in the sun it is Fastman. Fastman is affectionately known as Clint, well done Clint from all of us at Galaxy. We are a lucky group of owners to have you as one of our horses.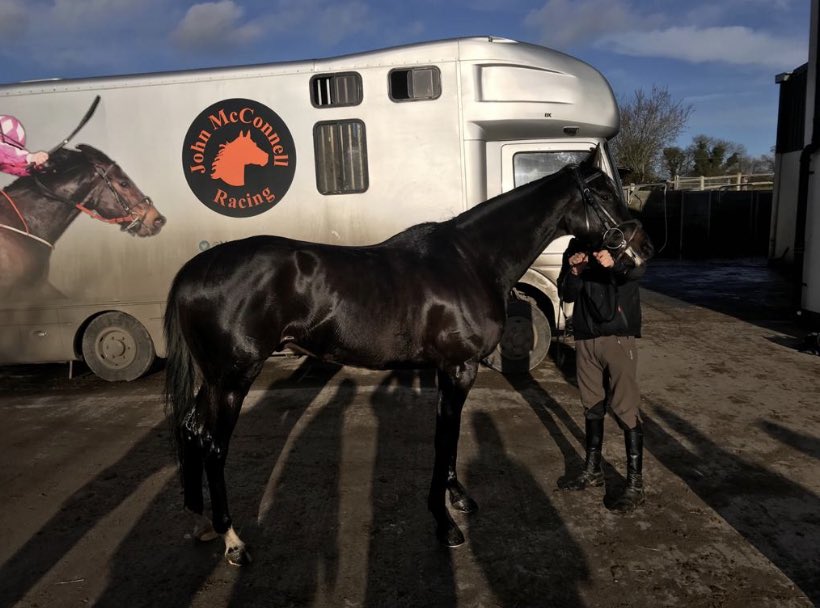 Numoor
            Dam's Sire
            War Front (USA)
It gives us great pleasure to announce our tenth syndicate horse Numoor. We sourced Numoor through the horse in training sales at Newmarket in July 2021. Numoor is only three years of age, he has shown plenty of promise to date already a winner at Newmarket on Heavy ground. Numoor has already run well on the all-weather, we see him as a prospect for turf races and Dundalk. We would expect Numoor to be ready to race in Autumn 2021. Numoor will be trained by John McConnell. 
Numoor on the Gallops at Rockview Stables
Seddon
Seddon is the Galaxy Horse Racing Syndicates' first National Hunt Horse. Seddon will mix it between Hurdles and Fences. A five-time career winner who has won one bumper, two hurdle races as well as two chases. Seddon in 23 career runs has won 5 and placed 8 times. Seddon will be trained by John McConnell who has an excellent record as a jumps trainer. We are excited to take our first steps into the world of National Hunt Racing with Seddon, John McConnell and all the team at Rockview stables.
Seddon and Siobhan Rutledge at Rockview Stables.